| Published: Jan 23rd 2020
After major headwinds the first three years of the 2010s, we can confidently claim the 2010s as a growth decade. Building on a terrific 2019, 2020 is without doubt off to a strong start.
M&A activity across the industry continues at a cyclical high. Approximately 20% of the residential furniture industry changed ownership, either through merger, acquisition, IPO, PE re-capitalization, or through liquidation during the past 40 months. We agree with many industry leaders that significant transactions and ownership exchanges are on the horizon in our ever-evolving industry. The abundance of capital from banks, strategic corporate buyers, international groups, and private equity / family offices has married in a timely balance with baby boomers seeking to exit ownership positions.
Stump & Company has participated in many of these transactions, including: Trendway - Fellowes; Southern - Universal; Our House Designs - Parker Maricich Private Investment Group.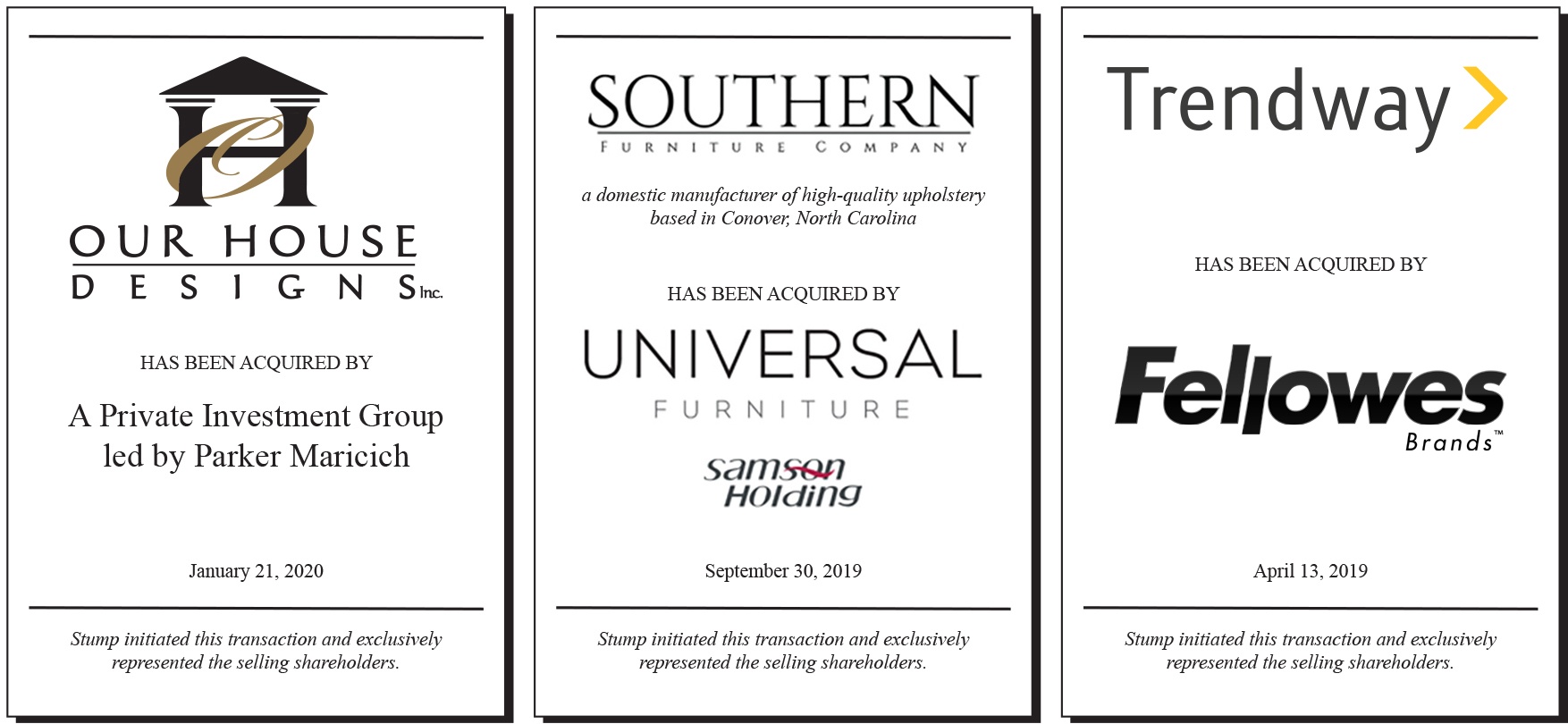 We look forward to announcing several additional transactions in the domestic upholstery space as well as specialty niche furnishing manufacturers and importers. Stay tuned.
Most business and financial executives believe the world economy will remain strong through 2020. This is a continuation of nine consecutive years of economic growth. The furniture industry similarly has thrived. We observe that the Companies 'winning' in this booming economic environment are those that are nimble, innovative, and blessed with strong balance sheets; all of this has enabled them to thrive in the midst of dramatic changes.
Our team relentlessly monitors the home furnishings industry's most meaningful trends:
E-Commerce & Big Data: Amazon, Wayfair, and others continue to take market share from traditional retailers. This is true of most retail categories, and furniture is no exception. Larger items and upholstery remain mildly insulated, but as younger consumers become the dominant furniture buyers - and as delivery and last-mile installation improves - a greater and growing shift to online purchasing is destined to occur. These internet giants are also exploring growth in the hospitality sector. The effective utilization of data to understand customers, price points, point of sale, marketing, products, and supply chains is increasingly what sets apart the winners.
Tariffs: The Trump administration's tariff on Chinese goods continues, as does the uncertainty of months of protracted negotiations. This has been a boon for some and a nightmare for others. The most visible result has been the re-balancing of production out of China to Vietnam, Mexico and other lower cost countries, as well as a return to "Made in USA," particularly in soft goods. We will be monitoring the recently concluded Phase I agreement closely and hope for continued negotiations/deals in 2020.
Blending Channels: We continue to see the commercial, residential and hospitality furniture sectors blur, with strategic focus on taking products into multiple channels. Segment is no longer primarily defined by product but by process.
Give me growth! Strong companies are getting stronger, larger companies are growing larger, and growth is top of mind. As weak companies fall away, this opens an opportunity for the stronger players to grab market share and grow even faster. 
Finally, The Stump & Company team is bullish about this new decade. Our team continues to evolve to meet our growth and activity. Stuart Stump Mullens, who joined our company in 2016, recently was promoted to Partner.  Bo Stump, who worked on our team in 2015 before completing his MBA at Chapel Hill and working for Abrigo Bank Consulting, re-joined the firm as a Partner.
Both Stuart and Bo represent the third generation in our company and bring a depth of cross-industry experience, banking/financial analysis expertise, and associated skills to the table. This youth and perspective, alongside Tim's 30 years in the business, positions the team to execute at the highest levels for our clients for many years to come.
These are exciting times in our industry, and we remain optimistic about the future of the furniture sector. Call us, we are here to help!
Share on Twitter
Share on Facebook
Recent Posts
Archive
2020
2019
2018
2017
2016
2015
2014
Categories
Tags
Feeds
RSS
/
Atom