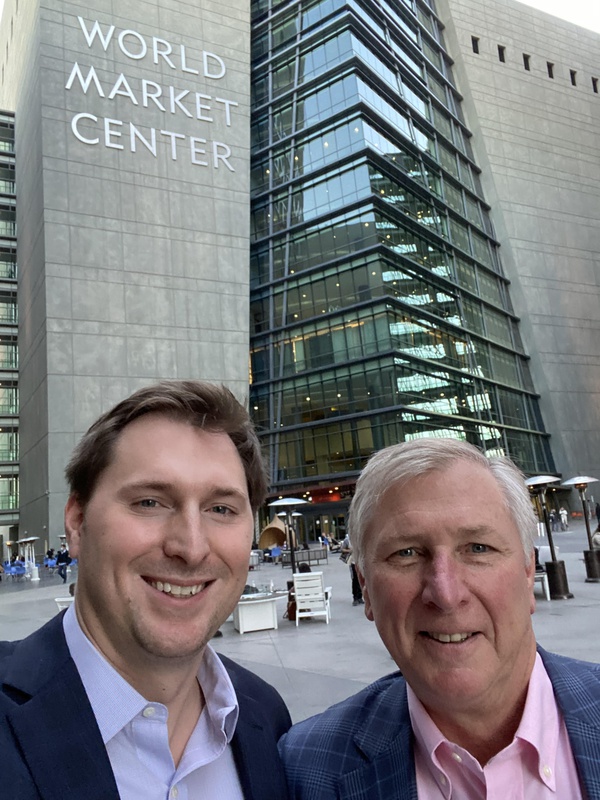 The Stump team attended the semiannual Furniture Market at the Las Vegas World Market Center this week and was pleasantly surprised by the attendance and upbeat attitudes. Many exhibitors told us that over 100 retailers came and conducted strong new business. In addition, designers flocked to see new product trends and deepen vendor relationships.
We were particularly impressed with some of the new showrooms, like Hooker Furnishings (nice new showroom on A2). Those that stepped up their game were receiving press and accolades. However, many companies decided not to exhibit or have pulled out of the market permanently. Lower floors at the World Market Center were active, but the upper floors tended to be mostly vacant. The showroom and exhibition schedule presents challenges that remain a key topic among our clients and friends. How many trade shows can one industry accommodate, particularly when combined with permanent showrooms and fixed costs?
Supply chain issues remain a key topic and industry pain point, with no end in sight. Container costs remain elevated, lead times are long, and the entire system remains under stress. Bigger companies, as well as companies that have invested in data and technology, appear to have an upper hand at navigating the turbulence. In addition, companies are adding more working capital to their balance sheets to buffer supply chain lags and surging backlogs. Again, this favors the big and strong that can afford to do so.
With these various international constraints, furniture manufacturers (primarily upholstery) are increasingly looking for more capacity, both domestically and south of the border. Mexico in particular is taking center stage as the US faces labor constraints.
E-commerce is still booming and digitally native companies are seizing market share. We expect this to continue. Expect more M&A in this sector.
Casual/Outdoor furniture remains a fast-growing category. We see this trend continuing as COVID continues to keep us outdoors more and new home and 2nd home construction remain at peak levels. And with the increase in the category comes a greater emphasis on its styling - casual furniture is becoming much more fashionable and integrated with interior decor trends.
This integration of categories with broader home furnishings is being seen not only in the outdoor category, but across the industry. Whole home continues to spark interest as buyers want to see broader decor for the home, rather than just a sofa or a dining table. Many exhibitors are expanding into wall art and lighting and garden accessories. Keep an eye on this trend!
All these trends are supporting M&A activity, and it is booming! Strong companies are making big and bold moves and Private Equity continues to have massive stockpiles of dry powder. We expect deal flow to remain strong in 2022-2023, following a robust 2021.
Give us a call if you are interested in selling or buying a business – we would love to hear from you!
Quote of the Market: "The customer trusts us to outfit the floors of their house, why not the walls too?" said one CEO in reference to their recent expansion into wall décor.
Share on Twitter
Share on Facebook
Recent Posts
Archive
2022
2021
2020
2019
2018
2017
2016
2015
2014
Categories
Tags
Feeds
RSS
/
Atom