This has been a busy season in the M&A market. Activity remains strong across residential, hospitality, and contract furniture. We continue to observe a compelling balance of buyers and sellers in each of these furniture industry sectors. There are strong strategic buyers interested in growth and diversification of products and manufacturing capabilities. Private equity companies are investing in the space, indicating that there is additional investment to follow. Finally, Asian money continues to seek US investment. 
This has also been a busy season for Stump. We have closed 2 transactions over the past 2 months, and have two more nearing completion in the weeks ahead. This is an exciting time in the market cycle to be entering the High Point Furniture Market.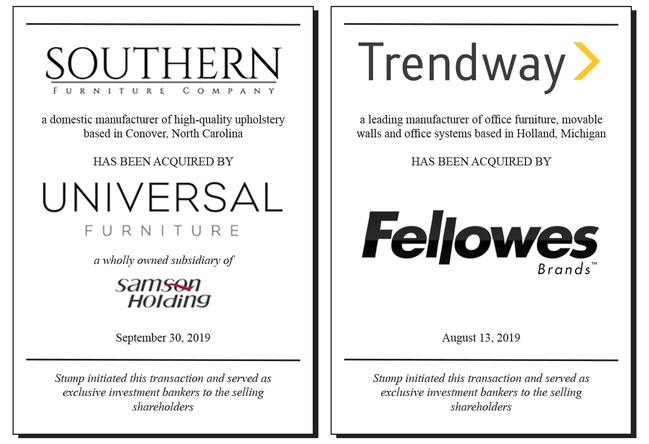 Stump Team Update:
Stump is pleased to announce that Stuart Stump Mullens has been promoted to Partner and will continue to bring her insights and passion for the industry to the M&A team.
Key Take Aways:
• The M&A market is open and transactions are happening across our Industry.
• Prospective Buyers are looking for growth, profitability, and strong management teams. If you need help getting there, we are happy to help.
• Tariffs and E-Commerce are changing the rules. There is growth in our market, but it is only for those that have a compelling value proposition in this fast paced and open environment.
• Stump & Company is well positioned for the future and growth with a third generation securely in place.
• Now may be the time for you to sell! Give us a call if you would like to discuss valuations or a transaction.
Share on Twitter
Share on Facebook
Recent Posts
Archive
2022
2021
2020
2019
2018
2017
2016
2015
2014
Categories
Tags
Feeds
RSS
/
Atom